For the purposes of this site, terms like 'Leaving Open' and 'Final Touch' are figurative.
Through a 
Post-Planning
 Cycle
, Lanchonete.org conducted a year-long public programme (2018) in order to allow ongoing processes to come to natural ends, and to receive feedback on the overall work. 'Paim, final touch' (
part 1
 and 
part 2
) describes how some Lanchonete.org participants have continued working from Tarcísio's Bar (lunch counter) and with the residents of Conjunto Santos Dumont, and indeed in this way we are 'Leaving Open' the new network forged by the five-year project, Lanchonete.org (2013-17).
Researching the right to the city, Lanchonete.org has worked all over São Paulo with a special focus on its center, contributing ideas and questions to a range of urban themes. For the final two years of the five-year term (2013-17), we have had a special focus on the built environment of Conjunto Santos Dumont and the Bixiga neighborhood around the lanchonete that is located at the base of the tallest of its three buildings, 14 Bis. In the planning of a long-term project we have considered our growing relations at Conjunto Santos Dumont, and especially the strong partnership with Tarcisio, the bar manager for some 30 years. Indeed Tarcisio's Bar has received many guests from the art, architecture, academic and urban 'camps' these past few years.
Near the 'official' end date of Lanchonete.org, we solicited ideas from past participants and residents at Conjunto Santos Dumont, given that the apparatus of the platform yet exists, and our desire that work–and relationships–at Conjunto Santos Dumont might continue in different forms. There are several ideas that are still under discussion at Tarcisio's Bar, and one is an enormous Final Touch conceived by artist Thiago Gonçalves, in the form of an LED installation depicting Santos-Dumont's airplanes on the 14 Bis building's Paulista-facing lateral façade. What we know is that things will change, and whatever happens will depend on a variety of factors and actors. We will know about the LED installation by the 2022 Centennial of the 'Modern Art Week' and/or give an update on any new developments.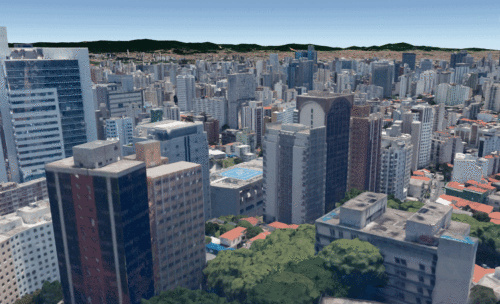 Skip back to main navigation