2016.1 – Lanchonete.org on refugees and the São Paulo housing movement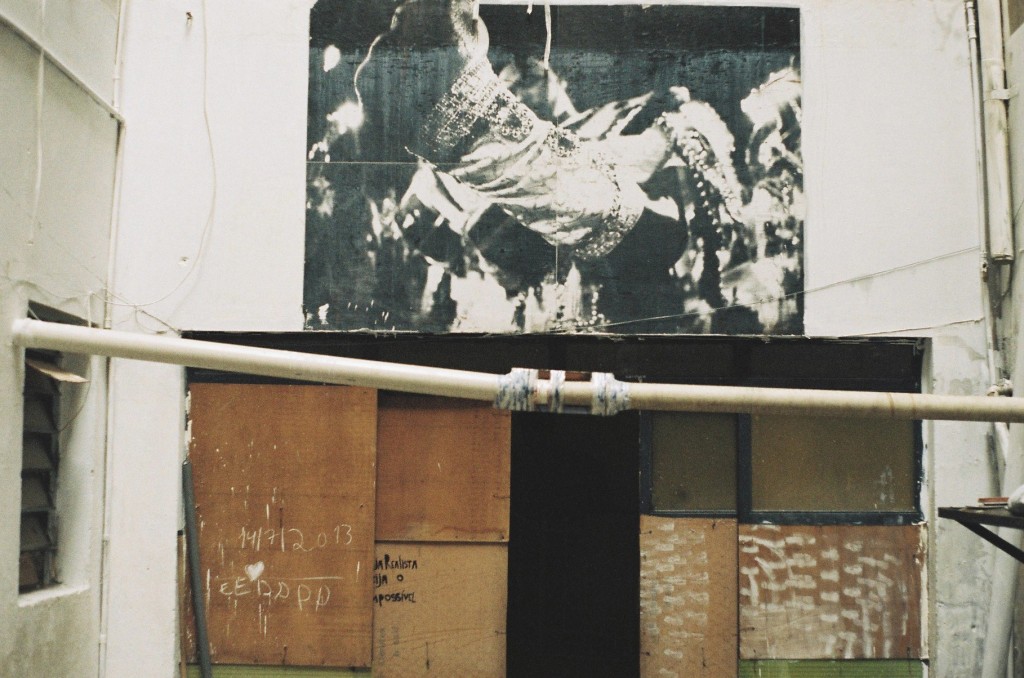 Lanchonete.org is an artist-led progressive cultural platform focused on how people live and work in, share and survive the contemporary city with the Center of São Paulo as our outlook. It gets its name from the ubiquitous lunch counters—convivial, fluorescent-lit, open-walled, laborious, points of commerce—that populate almost every street corner. While the platform is quite flexible, accommodating artist residencies, conferences, publications, exhibitions and related activities, each of its members may introduce a special focus based on their own set of interests or concerns.  In 2016 different members will share what they are working on, as well as pressing issues playing out in the location (or site) of the project.
***
From my position with Lanchonete.org, I started a research project in March 2015 with asylum-seekers, refugees, and immigrants who are integrating, little by little, into the housing movement in the center of São Paulo. Drawing from that work, I propose rethinking the meaning of the word "enclave," and reflecting on the possible ways an enclave might unfold in the local political and urban scene.
The word "enclave" is understood, in terms of geography, as a piece of land completely surrounded by a strange land; in terms of biology, as a substance extracted from its normal connection and included in a new organ or tissue. In a city setting, the meaning is not that different. I think about the refugee as a migrant who leaves his own country with no choice, hoping for a new life, the recognition of his own rights, and equity with the locals of his new home. And I think about the housing movement in the center of São Paulo, which occupies buildings in the center as a way to make its struggle public, to have the rights of those involved recognized—rights ensured, in theory, by the Brazilian Federal Constitution, but not in practice. In both cases a displacement situation, be it between countries or between different regions of the same city, is the central issue. But both struggles–the housing movement as well as immigrants, asylum-seekers, refugees–are barely seen or recognized. That's why I see them as "enclaves of struggle," fighting for their existence.
In her book, Cities of Walls: Crime, Segregation and Citizenship in São Paulo, Brazilian writer Teresa Caldeira approaches the issue of "fortified enclaves" as different ways that private property performs as a common space, emphasizing that what is private and restricted is actually good, leading to a complete depreciation of what is public and open to the city. This is a perfect picture of the logic of social exclusion and segregation present in Brazilian society. The "enclaves of struggle," as I have called them, are a big part of the challenge in Brazil for the consolidation of democracy and constitutional rights, aligned with the discourse of the right to the city, defined by Henri Lefebvre and highly developed by David Harvey.
The rise in global mobility has had a presence in the news worldwide. In Brazil, 40 percent of the national demand of asylum seekers is concentrated in the city of São Paulo. In a country where around 5 million people do not have access to adequate housing, the need for support from civil society beyond the State's efforts is extremely necessary, especially when it concerns housing asylum-seekers, refugees, and migrants. Carmen Silva, leader of Movimento Sem-Teto do Centro (the Center's Homeless Movement), part of Frente de Luta por Moradia (The Adequate Housing Front), opens a door at the housing movement in solidarity with the recent arrived migrant community, urging the start of Grupo de Refugiados e Imigrantes Sem-Teto (Group of Homeless Refugees and Immigrants), in the Hotel Cambridge Occupation, in the Center of São Paulo, with the Congolese refugee Pitchou Luambo as its leader.
The group, in joint action with the housing movement—which holds weekly Sunday meetings at the occupation on basic assistance for recent arrived immigrants and on how is it to be part of a housing movement—has written, in the occasion of the I Fórum Morar no Refúgio (First Forum How to Live in Refuge) in May 2015, an open letter that shows serious gaps in legislation and Brazilian state structure to ensure the rights of the refugee population, and proposes that all organized housing movements that are recognized in the federal, state, and local levels be responsible for the management of temporary housing for the immigrant population.
My study on the "enclaves of struggle" brought me to the work of the Indian artist Shilpa Gupta, especially to her work Untitled, 2013-2014, exhibited at the 8th Contemporary Art Biennale of Berlin. One of her pieces is a flat, concrete sculpture, with a black line drawn on top. Below that line is the following text:
"Depending on which side of this marking you may now be, you may or may not have an identity card, you may or may not need to take a fake name to enroll into a school, you may or may not be able to deliver your child with the real father's name in the neighborhood hospital, you may or may not still be able to have electricity this evening even though the cable passes above your house, irrespective of the fact that your family may have lived here before countries were formed one night."
The sculpture was the result of Gupta's trip through the Indo-Bangladeshi enclaves known as "chitmahals," where she noticed complex ironies around border demarcation and eviction policies. Gupta says she is interested in "the great absurdities of collective practices" and the forms of conduct towards these situations.
In closing, I would simply like to underline the importance of reflecting on this idea of liminal or 'in-between' situations, sometimes understood as enclaves, sometimes understood as borders, subtle or concrete, and the impact of organized, authentic, and collective action—not worrying about its legal or institutional aspects—on the life of the urban population.
Raphael Daibert is a founding member of Lanchonete.org. He is also part of the pedagogical and artistic experiment Free Home University, in Lecce, Italy.  A version of this article was originally published in Portuguese by Goethe-Institut São Paulo, Episodes of the South project, and then appeared in the World Policy Institute's Arts-Policy Nexus.
Source: Residency Unlimited
Skip back to main navigation